OS X 10.8 or later only. This script will create a PDF booklet containing tag info from the selected tracks (or every track from the selected playlist) and then add the PDF to iTunes and copy it to the playlist where the selected tracks reside.
Here are example PDFs using audio tracks and using TV Show tracks made with the script.
Action shot:
Select the tag information for each track that will be included in the PDF
Latest version:

November 11, 2014
Adds support for OS X 10.10 Yosemite/iTunes 12
Minor maintenance tweaks

Further:

Info:

file format:

Cocoa-AppleScript (Applet)

Gatekeeper Security:

Authorized Apple Developer ID

written by

Doug Adams

latest version downloads:

104 |

total downloads:

7690

download size:

401.6K

Last PPC/universal version:

direct download

Last pre-OS X 10.9 version:

direct download

Last pre-OS X 10.9.5 version:

direct download
Perhaps of Interest...
Popular Now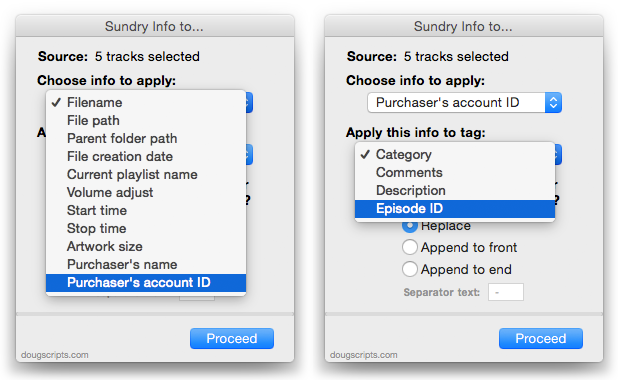 downloaded 28m 14s ago
Paste non-ID3 Tag track and file-related info into Category, Comments, Description or Episode ID tag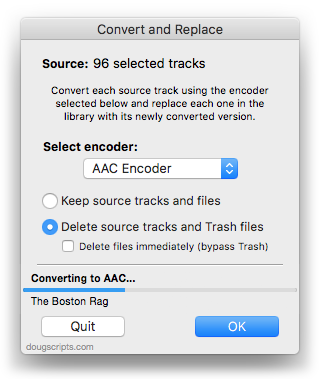 downloaded 29m 29s ago
Convert selected tracks and replace them with converted versions
downloaded 32m 45s ago
Assists with finding truncated iTunes Match tracks
downloaded 42m 34s ago
Apply selected CD's CD Text to its disc and track tags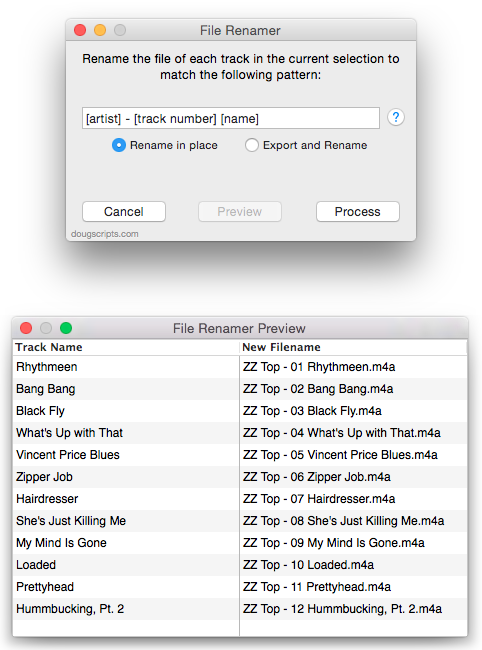 downloaded 52m 53s ago
Use tag data to formulate new file name for selected tracks' files
10 Most Recently Added
NEW yesterday:


Playlists Info v1.0
Display and export playlists' name, size, time, and track count for selected source

UPDATED 10 days ago:


Save Album Art to Album Folder v5.1
Export artwork of selected tracks to parent or specified folder

UPDATED 10 days ago:


Save Album Art as folder.jpg v3.1
Export album artwork as folder.jpg to Album folder

UPDATED January 14, 2015:


Lyrics to TextEdit v2.0
Send the lyrics of the playing or selected track(s) to TextEdit

UPDATED January 10, 2015:


Batch Export Playlists v1.4
Export selected playlists as individual XML or M3U files

NEW January 9, 2015:


Duplicate Playlist Folder as Playlist v1.0
Duplicate tracks from all levels of a selected Playlist Folder to a new playlist

NEW December 31, 2014:


Remove Leading-Trailing Spaces v1.0
Removes leading and trailing space characters from chosen tags in selected tracks

UPDATED December 16, 2014:


Clipboard to Lyrics Scripts v2.0
Two scripts copy text from clipboard to current or single selected track's lyrics tag

UPDATED December 16, 2014:


Year of Release Date to Year v2.0
Set year of selected tracks to their release date's year (if available)

UPDATED December 15, 2014:


Albums Assemble v1.1
Gather all tracks of selected tracks' albums to single playlist
30 Most Recent RSS Feed