This script will change the file type of the selected AAC tracks--which you have previously made bookmarkable yourself with the script Make Bookmarkable--to "M4A" and file extensions to ".m4a" making them UN-bookmarkable. When used with iTunes 7 or later, each track is deleted and re-added so that it will be removed from the Audiobooks Library. Ratings, play count, last played date, skip count, and skipped date are preserved.
Info:

file format:

Script Bundle

Gatekeeper Security:

None

written by

Doug Adams

latest version downloads:

207 |

total downloads:

17125

download size:

243.7K

Last pre-OS X 10.9 version:

direct download

Current v3.6

download ⬇

Free to use, but a payment
in appreciation is requested.
Perhaps Also of Interest...
Popular Now
downloaded 13m 52s ago
Exports and then re-imports selected tracks' artwork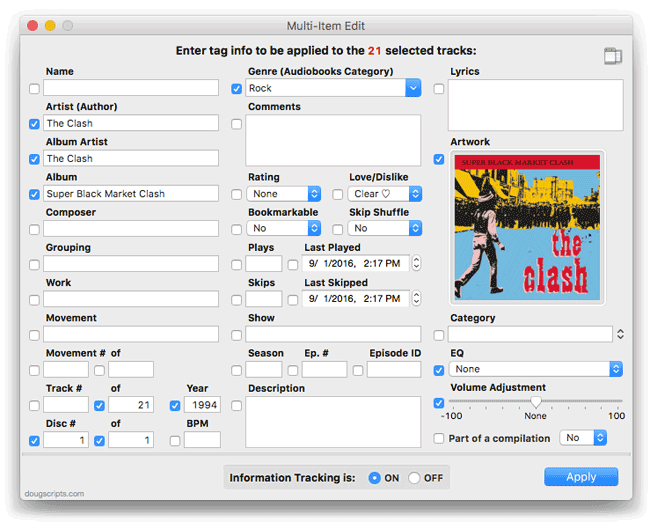 downloaded 25m 5s ago
View/Edit tags of selected track(s) in single window
downloaded 29m 5s ago
Remove iTunes tracks disassociated from files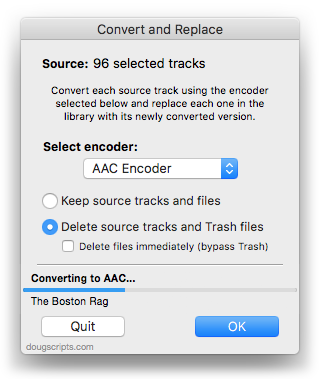 downloaded 29m 33s ago
Convert selected tracks and replace them with converted versions
downloaded 29m 49s ago
Play through each track in a playlist at your set interval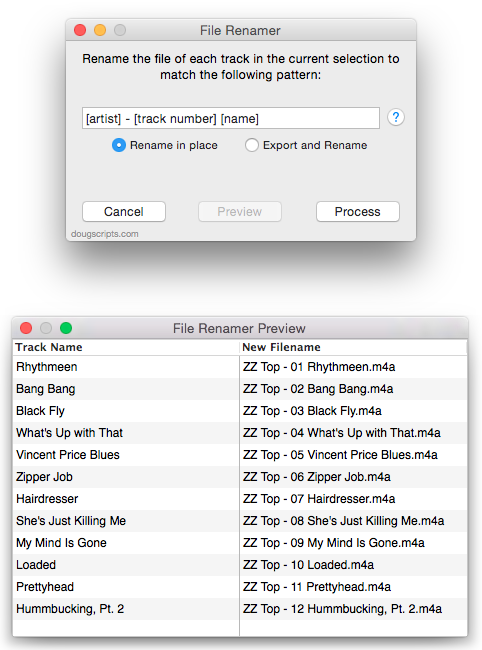 downloaded 31m 12s ago
Use tag data to formulate new file name for selected tracks' files
10 Most Recently Added
UPDATED 3 days ago:


Multi-Item Edit v4.1
View/Edit tags of selected track(s) in single window

UPDATED 4 days ago:


Convert and Export v3.0
Convert selected tracks and export the converted files to a new folder

UPDATED 6 days ago:


Show In Playlists v1.1
Continuously display playlists containing selected/playing track(s)

UPDATED February 17, 2015:


Copy Tracks to Multiple Playlists v3.0
Copy selected tracks to multiple playlists

UPDATED February 16, 2015:


Save Album Art to Album Folder v5.2
Export artwork of selected tracks to parent or specified folder

UPDATED February 16, 2015:


Save Album Art as folder.jpg v3.2
Export album artwork as folder.jpg to Album folder

UPDATED February 15, 2015:


Batch Export Playlists v1.5
Export selected playlists as individual XML or M3U files

UPDATED February 15, 2015:


Playlist Manager v2.1
Perform tasks on a batch of playlists; rename, delete, duplicate, merge, more

UPDATED February 13, 2015:


Playlists Info v1.2
Display and export playlists' name, size, time, and track count for selected source

UPDATED February 5, 2015:


PDF Adder v5.1
Assists with tagging and adding PDF files to iTunes
30 Most Recent RSS Feed