Obligatory warning: This script has been designated as an obsoleted "Retro Script". There is no guarantee that it will function as described with modern versions of iTunes and OS X. If used in its current form it may not work at all without modification and, at worst, it may corrupt or destroy data.
Delete the artwork from all (or just selected) tracks in the selected playlist.

Designated as a Retro Script because: iTunes multi-edit function can clear artwork from selected tracks.
Info:

file format:

Script

Gatekeeper Security:

None

written by

Peter Vendlegard

total downloads:

6625

download size:

36.1K
Popular Now
downloaded 10m 25s ago
Deletes the current track from all playlists and moves to Trash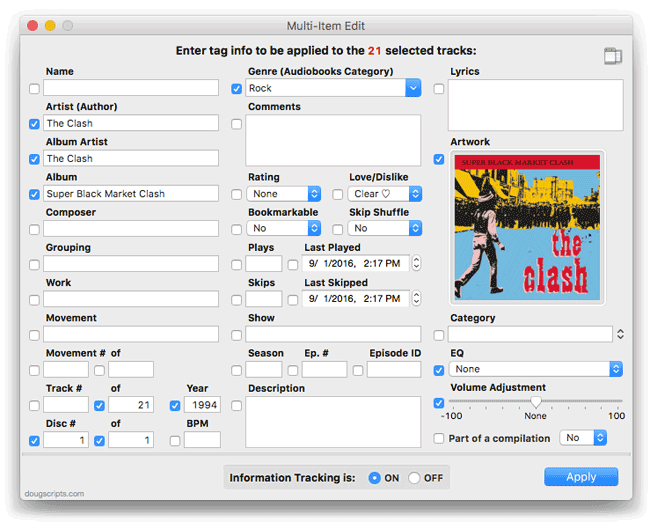 downloaded 10m 41s ago
View/Edit tags of selected track(s) in single window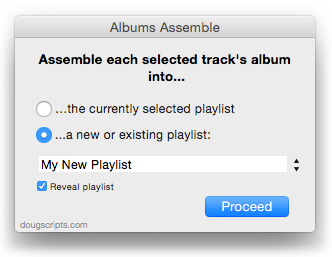 downloaded 11m 26s ago
Gather all tracks of selected tracks' albums to single playlist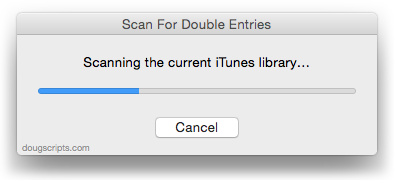 downloaded 11m 46s ago
Locates pairs of track entries pointing to the same file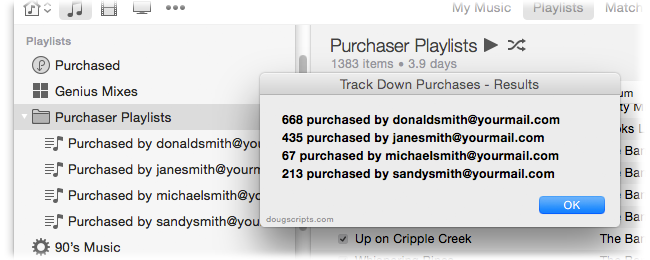 downloaded 13m 2s ago
Sort purchased tracks into discrete playlists by name or Apple ID
downloaded 13m 3s ago
Remove iTunes tracks disassociated from files
10 Most Recently Added
UPDATED 2 days ago:


Super Remove Dead Tracks v4.3
Remove iTunes tracks disassociated from files

UPDATED 2 days ago:


Remove n Characters From Front or Back v5.1
Delete characters from the beginning or ending of selected tracks' name, artist, album, comments, composer, or show tags

UPDATED 3 days ago:


Save Album Art to Album Folder v5.3
Export artwork of selected tracks to parent or specified folder

UPDATED 3 days ago:


Save Album Art as folder.jpg v3.3
Export album artwork as folder.jpg to Album folder

UPDATED 4 days ago:


Music Folder Files Not Added v4.5
Displays files in iTunes Media folder not in iTunes track library

UPDATED June 20, 2015:


Multi-Item Edit v4.2
View/Edit tags of selected track(s) in single window

UPDATED June 10, 2015:


Random Full Albums to Playlist v1.2
Fill a playlist with user-set number of randomly selected full albums

UPDATED June 7, 2015:


Track Down Purchases v3.0
Sort purchased tracks into discrete playlists by name or Apple ID

NEW May 27, 2015:


Make Playlists By Years v1.0
Batch-create music playlists by indivdual year

UPDATED May 3, 2015:


Make Playlists By Tag v2.0
Create a playlist for each entry of a specified tag
30 Most Recent RSS Feed