Obligatory warning: This script has been designated as an obsoleted "Retro Script". There is no guarantee that it will function as described with modern versions of iTunes and OS X. If used in its current form it may not work at all without modification and, at worst, it may corrupt or destroy data.
This script assists with applying Shortcut Key Combinations to your iTunes AppleScripts in iTunes' Script menu. The accompanying Read Me explains how to use and the powers at work.
• Note: This script writes to iTunes' preferences file, com.apple.iTunes.plist using the defaults shell script command.

Read the Read Me! Or read more here online.
(Note: In order to launch this PowerPC-era script on an Intel machine, it must first be opened and then saved using Script Editor (AppleScript Editor pre-OS X 10.0) which is located in your /Applications/Utilities/ folder. More information is here.)
Info:

file format:

Script

Gatekeeper Security:

None

written by

Doug Adams

total downloads:

2875

download size:

293.9K
Perhaps Also of Interest...
Popular Now
downloaded 11s ago
Exports and then re-imports selected tracks' artwork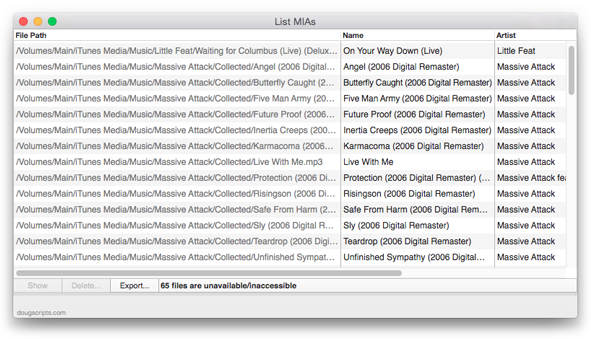 downloaded 1m 6s ago
Display, create text file listing info of dead tracks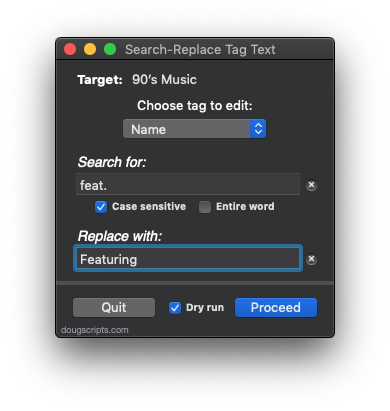 downloaded 1m 48s ago
Perform search-and-replace on text in your choice of tags
downloaded 7m 28s ago
Remove iTunes tracks disassociated from files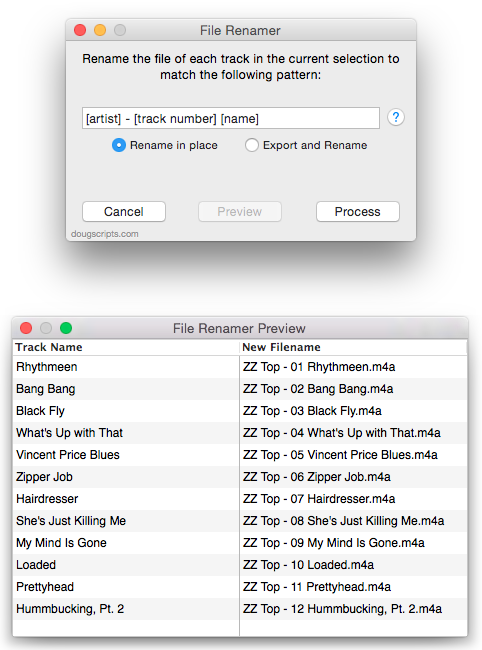 downloaded 18m 53s ago
Use tag data to formulate new file name for selected tracks' files
10 Most Recently Added
UPDATED May 3, 2015:


Make Playlists By Tag v2.0
Create a playlist for each entry of a specified tag

UPDATED April 27, 2015:


Copy From Start to Stop v2.1
Copy the file of the selected track using its Start and Stop times

UPDATED April 15, 2015:


File Renamer v3.1
Use tag data to formulate new file name for selected tracks' files

UPDATED April 12, 2015:


This Tag That Tag v4.3
Applet assists with swapping, copying, appending data between track tags

UPDATED April 5, 2015:


Re-Embed Artwork v2.1
Exports and then re-imports selected tracks' artwork

UPDATED March 31, 2015:


Open iTunes Media Folder v3.0
Open the iTunes Media folder in the Finder

UPDATED March 31, 2015:


A Space Between v1.2
Applet plays tracks with a user-set duration of silence between each track

UPDATED March 28, 2015:


I Hate That iTunes Done Chime! v3.0
Change the iTunes "done" chime to a System sound, no sound, or your choice of an AIFF sound file

UPDATED March 23, 2015:


Convert and Export v3.1
Convert selected tracks and export the converted files to a new folder

UPDATED March 17, 2015:


Artist to Last-First v3.0
Edit artist/composer-related tags text for sorting purposes
30 Most Recent RSS Feed