Capitalizes the first letter of each word in the selected iTunes track names, converts all other letters to lowercase. Thus, "Come as you are" becomes "Come As You Are".
Info:

file format:

Script Bundle

Gatekeeper Security:

None

written by

Doug Adams

latest version downloads:

8976 |

total downloads:

24874

download size:

233.1K

Current v3.0

download ⬇

Free to use, but a payment
in appreciation is requested.
Perhaps Also of Interest...
Popular Now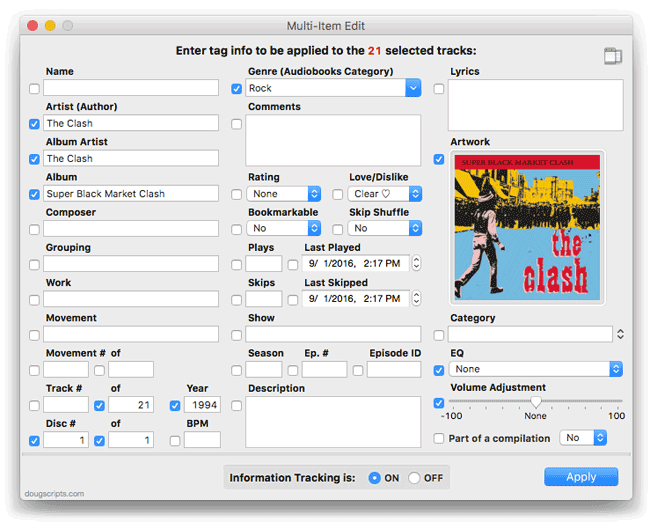 downloaded 3s ago
View/Edit tags of selected track(s) in single window
downloaded 1m 41s ago
Enter a date which will be appended to the comments field of selected tracks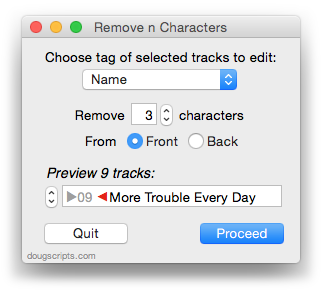 10 Most Recently Added
UPDATED 2 days ago:


Multi-Item Edit v4.1
View/Edit tags of selected track(s) in single window

UPDATED 3 days ago:


Convert and Export v3.0
Convert selected tracks and export the converted files to a new folder

UPDATED 5 days ago:


Show In Playlists v1.1
Continuously display playlists containing selected/playing track(s)

UPDATED 14 days ago:


Copy Tracks to Multiple Playlists v3.0
Copy selected tracks to multiple playlists

UPDATED February 16, 2015:


Save Album Art to Album Folder v5.2
Export artwork of selected tracks to parent or specified folder

UPDATED February 16, 2015:


Save Album Art as folder.jpg v3.2
Export album artwork as folder.jpg to Album folder

UPDATED February 15, 2015:


Batch Export Playlists v1.5
Export selected playlists as individual XML or M3U files

UPDATED February 15, 2015:


Playlist Manager v2.1
Perform tasks on a batch of playlists; rename, delete, duplicate, merge, more

UPDATED February 13, 2015:


Playlists Info v1.2
Display and export playlists' name, size, time, and track count for selected source

UPDATED February 5, 2015:


PDF Adder v5.1
Assists with tagging and adding PDF files to iTunes
30 Most Recent RSS Feed