Welcome!
Download hundreds (455 and counting) of AppleScripts for Apple's iTunes that will help make managing your digital music collection easier and more fun!
Popular Now
What's AppleScript?
AppleScript is a simple Macintosh-only programming language that can control and automate actions on your Mac. AppleScript is already available on your computer as part of the Mac OS and many popular applications can be automated using AppleScript scripts. Scripts written for iTunes can manage files and track information, create playlists, interact with other applications, perform innovative tasks, and handle many kinds of chores which otherwise would be repetitive, laborious, and/or time-consuming.
Cool! Where Do I Start?
Start browsing the site by using the scripts ↓ Menu link above. AppleScripts are gathered into these general Categories:
Or use the search box at the top of every page to try and find something specific.
Not sure how to install AppleScripts? Here's the Download/Installation FAQ & Video.
Check back often or subscribe to my Twitter feed @dougscripts, my RSS blog feed and 30 Most Recent Scripts RSS to stay notified about new and updated scripts and info.
Latest:
February 11 2015 - 12:20 pm
Show In Playlists puts up a floating window that lists the playlists that contain the current track selection. Whenever you select a track in iTunes, bam! The playlists that contain it will be listed: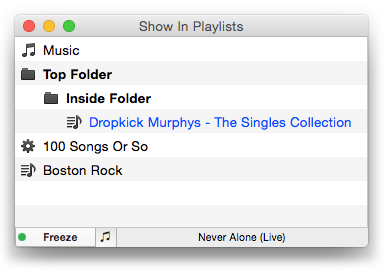 It's sort of like iTunes' own "Show In Playlist" without the right-clicking and scrolling. In the screenshot, I've selected a track in the "Dropkick Murphys – The Singles Collection" playlist and the window displays the other playlists that contain the selected track. Select multiple tracks, as you might for an entire album or artist, and only the playlists that contain the entire track selection will be listed.
You can go through a list of tracks pretty fast. But I've also found it handy just having it hang-out off to the side of iTunes when I'm working on tracks. I've found a few strays that way.
Clicking a playlist in the list selects it in iTunes and, if there's just a single track in the selection, that track will be selected in the selected playlist.
The routine can be toggled off ("Freeze") such that the current list of playlists will remain fixed and selectable, so you can refer to the playlists in the list or navigate tracks and playlists in iTunes without the list updating.
Show In Playlists is free to try full-featured for ten days, $1.99 to purchase. More info and download is here.