Welcome!
Download hundreds (456 and counting) of AppleScripts for Apple's iTunes that will help make managing your digital music collection easier and more fun!
Popular Now
What's AppleScript?
AppleScript is a simple Macintosh-only programming language that can control and automate actions on your Mac. AppleScript is already available on your computer as part of the Mac OS and many popular applications can be automated using AppleScript scripts. Scripts written for iTunes can manage files and track information, create playlists, interact with other applications, perform innovative tasks, and handle many kinds of chores which otherwise would be repetitive, laborious, and/or time-consuming.
Cool! Where Do I Start?
Start browsing the site by using the scripts ↓ Menu link above. AppleScripts are gathered into these general Categories:
Or use the search box at the top of every page to try and find something specific.
Not sure how to install AppleScripts? Here's the Download/Installation FAQ & Video.
Check back often or subscribe to my Twitter feed @dougscripts, my RSS blog feed and 30 Most Recent Scripts RSS to stay notified about new and updated scripts and info.
Latest:
October 22 2014 - 10:21 am
You may have been surprised, as I was, by the new Get Info panel in iTunes 12. While it provides pretty much the same utility as the previous incarnation's Get Info panel, it's souped-up UI-wise. One function that's missing is the Multiple-Items Edit checkbox feature to designate what tag changes to apply to the selection of tracks. I think what it does now is just detect changes and apply only the changes. I think. Not sure. Anyway, I'm not 100% comfortable with that.
Here's Multi-Item Edit: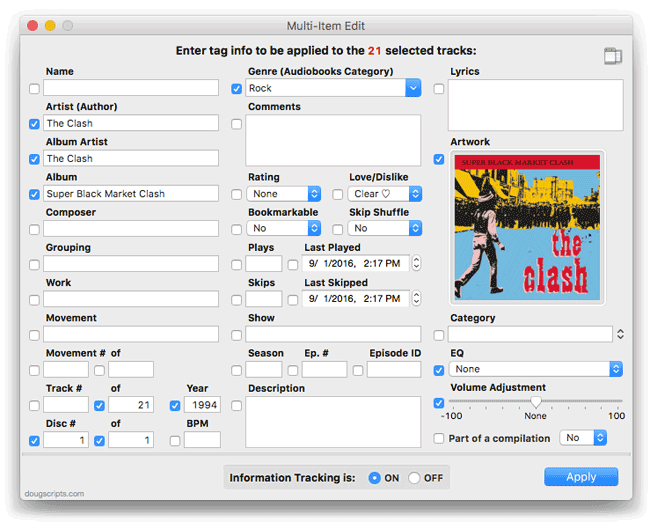 It works just like the old Get Info window in Multiple Item mode: It recognizes any common tags and displays them. Just enter/change some text or options and checkmark the boxes for the tags you want applied to a multiple selection of tracks, including "blank" entries.
This was something I was working on over the Summer so I could batch edit tags without having to switch among Get Info window tabs. But I re-jiggered it a bit as a new release for people who like their Get Info panel old-school.
I want to note that if you notice some tags and options missing (artwork, obviously), well, this is only v1.0.
Multi-Item Edit is $1.99 with a ten day full-featured trial period.